---
About the book:
Approximately four million people in the United States have Sjögren's syndrome, a chronic illness which is extremely difficult to diagnose, and even more difficult to treat. Sjögren's syndrome is an autoimmune disease characterized by an overactive immune system that targets moisture-producing glands in the body. It manifests itself in multi-system dryness potentially affecting every system in the body including, but not limited to, the eyes, mouth, joints, lungs, nervous system, liver, kidneys, and bladder. People with Sjögren's often go undiagnosed for years, their symptoms dismissed by doctors or classified as psychosomatic. All the while, the patient is increasingly unable to participate in daily life.
Written by Sjögren's sufferers from various regions of the United States and Canada and including a foreword by Steven Taylor, CEO of the Sjögren's Syndrome Foundation, Tales From the Dry Side offers up the stories of thirteen courageous men and women who share their journey with diagnosis, symptoms, and treatment of Sjögren's, as well as candid portraits of how this illness has affected their families, their personal lives, and their careers. Each first-hand account brings the reader through the medical maze that each contributor has had to navigate in their quest for wellness.
This book brings hope and comfort to the millions suffering from Sjögren's syndrome and to those who suffer from any of the eighty other identified autoimmune diseases, as well as to anyone faced with overwhelming obstacles.
"Books like this are a wonderful opportunity to have the Sjögren's story come to life. I am humbled by those patients that are willing to tell their story. Women and men who are willing to stand up, share their struggles and their triumphs as they manage this confusing and common, yet unknown disease." - Steven Taylor, Chief Executive Officer, Sjögren's Syndrome Foundation
---
About the author: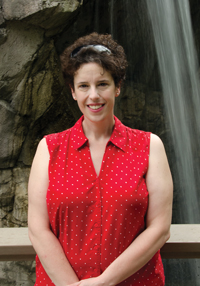 Christine Molloy, a writer, registered nurse,and Sjögren's patient, is a native of western Massachusetts, where she currently resides with her husband Chuck,and their basset hound mix, Molly. She has two stepchildren, Stephanie and Dan. Christine graduated from the University of Massachusetts at Amherst where she earned her Bachelor of Science in Nursing. She is the author of the blog Thoughts and Ramblings on Life, Love, and Health (
www.christinemolloy.com
).
Her greatest hope is that this collection of essays will help ease the suffering of those who are on the challenging journey of living with Sjögren's syndrome.
---