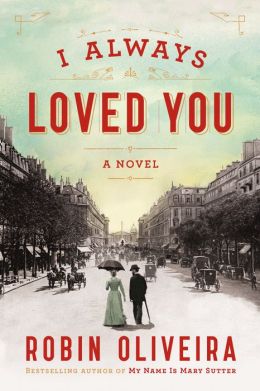 A novel of Mary Cassatt and Edgar Degas's great romance from the New York Times bestselling author of My Name Is Mary Sutter

The young Mary Cassatt never thought moving to Paris after the Civil War to be an artist was going to be easy, but when, after a decade of work, her submission to the Paris Salon is rejected, Mary's fierce determination wavers. Her father is begging her to return to Philadelphia to find a husband before it is too late, her sister Lydia is falling mysteriously ill, and worse, Mary is beginning to doubt herself. Then one evening a friend introduces her to Edgar Degas and her life changes forever. Years later she will learn that he had begged for the introduction, but in that moment their meeting seems a miracle. So begins the defining period of her life and the most tempestuous of relationships.

In I Always Loved You, Robin Oliveira brilliantly re-creates the irresistible world of Belle Époque Paris, writing with grace and uncommon insight into the passion and foibles of the human heart.

---

Received for review.
I am the first to admit that my knowledge of art history is not extensive but the novel's cover description drew me in and I simply had to read it.
The setting of Paris in the late 1800s was just lovely and became an extra character in the novel. The author brilliantly brought the city to life for the reader through her impeccable writing.
I knew virtually nothing about the relationship between Mary Cassatt and Edgar Degas before I started reading, which was probably a good thing since I had no preconceived ideas of how it should be portrayed in the novel. As it was I was drawn into their world and relationship and was left feeling like I truly knew them as people and would have enjoyed knowing them.
This beautiful and heartbreaking story is ideal if you are a fan of historical fiction. If you're an art fan as well you may enjoy this even more. I definitely recommend it.
---
*This post may contain affiliate links*