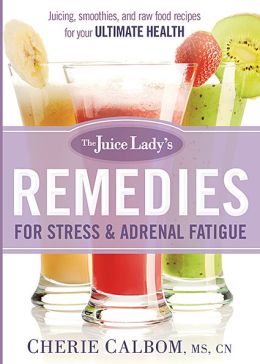 Don't let stress ruin your health.

Fight back with these all-natural juice remedies.

You don't have to suffer with the effects of stress and exhaustion. By simply adding more raw food to your diet, you increase your intake of essential nutrients and decrease the harmful effects of stress and adrenal fatigue on your body.

With recipes and recommendations for healing teas, juices, and smoothies, this quick-reference guide helps you naturally repair, rejuvenate, and reclaim your health. You also get valuable tips on stopping stress and adrenal fatigue at the source, including:
The connection between chronic stress and adrenal fatigue
Practical ways to lower your stress levels
Nine common symptoms of adrenal fatigue
Seven steps you can take to combat stress eating, and more!
---
Received for review.
Juicing is not normally my thing but I was drawn to this book because the author does not take the extreme vegan food views that many juicing advocates seem to embrace. The author suggests that you choose healthy, whole, organic foods whenever possible, including grass fed beef and cage free eggs.
I really liked how she explained her ideas about how foods interact with our bodies and can help restore our bodies to optimum condition. Her diet suggestions are intelligent and well researched, and with the exception of eliminating ALL sugar from the diet (no artificial sweeteners either) I found them to be quite reasonable.
The juicing recipes included in the book look easy to make and yummy, especially the Summer Corn Chowder.
Overall, this was an interesting book and every reader should be able to take away some useful ideas to implement in his or her own life.
---
*This post may contain affiliate links*