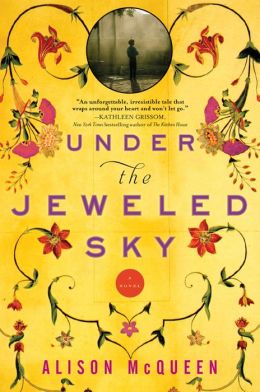 A breathtaking story of forbidden love and devastating consequences...

The moment Sophie steps onto India's burning soil, she realizes her return was inevitable. But this is not the India she fell in love with ten years before in a maharaja's palace. This is not the India that ripped her heart out as Partition tore the country in two. That India, a place of tigers, scorpions, and shimmering beauty, is long gone.

Drawing on her own family's heritage, acclaimed novelist Alison McQueen beautifully portrays the heart of a woman who must confront her past in order to fight for her future.

Under the Jeweled Sky deftly explores the loss of innocence, the urgent connection in our stars, and how we'll go to find our hearts.

---
Received for review.
I've always found the subject of the British in India fascinating so I was particularly interested to read this.
While this was a bit on the longer side at just about 400 pages it zipped right past because you're completely drawn into the characters's world from the very first page. It was a beautifully written period piece about love and loss and everything was so gorgeously described in detail that I can absolutely imagine a movie adaptation in the future.
I highly recommend this to historical fiction fans, especially those who enjoy the Indian setting.
---
*This post may contain affiliate links*