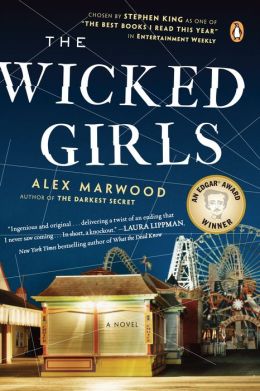 A gritty, psychological thriller that asks the question: How well can you know anyone?

On a fateful summer morning in 1986, two eleven-year-old girls meet for the first time. By the end of the day, they will both be charged with murder. Twenty-five years later, journalist Kirsty Lindsay is reporting on a series of sickening attacks on young female tourists in a seaside vacation town when her investigation leads her to interview carnival cleaner Amber Gordon. For Kirsty and Amber, it's the first time they've seen each other since that dark day so many years ago. Now with new, vastly different lives—and unknowing families to protect—will they really be able to keep their wicked secret hidden?

Gripping and fast-paced, with an ending that will stay with you long after you've read it, The Wicked Girls will appeal to fans of the Academy Award–nominated film Heavenly Creatures and the novels of Rosamund Lupton and Chevy Stevens.
---
Received for review.
Despite being the most screwed up story filled with utterly disagreeable characters that I have read lately I have to admit that I was glued to this book from the very first to the very last page.
The story was interesting and the mystery surrounding the women's earlier doings combined with their present day reunion kept me flipping the pages as fast as I could read them. I wasn't overly fond of Amber, and Kirsty frankly nauseated me. I felt absolutely no sympathy for either woman, and after reading the final page I was just flabbergasted by their behavior and just how incredibly, well, crazy they were.
Despite my deep dislike for the characters I quite enjoyed this emotional rollercoaster of a novel. The author did a masterful job of keeping the tension level incredibly high throughout. I don't think I blinked for large portions of the book!
This incredibly well written thriller is guaranteed to leave you speechless. I definitely highly recommend it.
---
*This post may contain affiliate links*