---
About the book: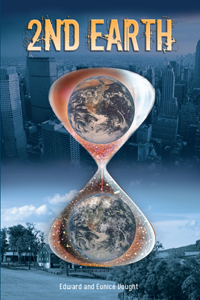 When you fall asleep on the subway, you can wake up out of this world!

When Jon Gorman and his buddy Tim, both Navy Seals, hopped on the subway from New Jersey to Manhattan late one night, the long day and the motion of the train soon lull both of them to sleep.

When it comes to a stop, they wake to find the train has been abandoned, in the middle of a tunnel, somewhere under the streets of New York.

As they make their way out to the street, they encounter a girl running for her life, in a world they no longer recognize.

They will soon find out just how strange reality can be.


---
About the author:
| | |
| --- | --- |
| | Ed and Eunice wrote 2ND EARTH for their six children who are big science fiction fans. They have always been fascinated with the concept of parallel worlds and often speculated what it might be like to be among the only survivors of the near total destruction of the world as we know it. They are currently working on a follow-up to 2ND EARTH along with continuing with their Best Friends series. They reside in Marion, Ohio where their greatest joy is their two granddaughters. |
---
*This post may contain affiliate links*