---
About the book: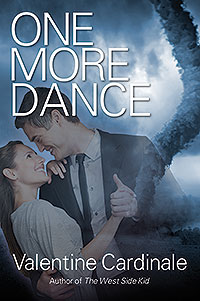 At a wedding in Italy, Julian Case, a Manhattan realtor and widower, meets Alegra Rossini, a university professor and single mom, and is struck by her beauty, grace, and playfulness as they dance the night away.

On the plane back to the States, he's already making plans to see her again. But when Julian enters his home in New Jersey, he discovers his son has been savagely attacked and left for dead. Fearing that whoever beat the young man into a coma will try to finish the job, Julian puts his life on hold to help track down the mysterious assailant.

Can a father unlock the secret connection and find his son's attacker before it's too late? Will Julian lose his chance at new love? And what about Alegra? Will she let this promising relationship slip away from her? Together, can they weather the storm and let love in their lives again for one more dance?


---
About the author:

Valentine Cardinale, a graduate of Iona College and Columbia Graduate School of Journalism, enjoyed a successful career as the editor of leading magazines in the advertising and pharmacy fields before writing fiction. One More Dance is his third novel, following The West Side Kid (2009) and The Terranovas: A War Family (2005). Val lives in New Jersey. Visit him at www.vcardinale.com.


---
*This post may contain affiliate links*