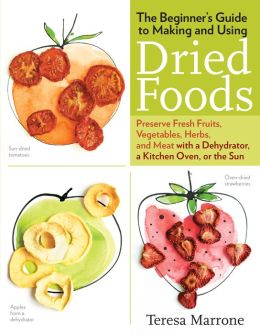 Drying is a simple and easy way to preserve fresh fruits, vegetables, meats, and herbs. This comprehensive guide includes everything you need to know to get started, whether you are using a dehydrator, your own oven, or the sun.

Expert Teresa Marrone thoroughly covers the basic techniques, all the way through storing and rehydrating your dried foods. From apples to watermelon, asparagus to zucchini, basil to beef, you'll find solid instructions that will ensuregreat results every time.

Marrone also includes recipes for using your dried foods in a wide range of delicious dishes, from pies and cookies to stews and casseroles. There are even instructions for drying fresh pasta and making vegetable snack chips and baby-food purees.


---
E-galley received for review.
I have a rather large garden and love to use my dehydrator for everything from apple and banana chips to dried carrots so I was very excited to discover this book.
The author covers absolutely everything you need to know about drying all kinds of foods, from preparation, equipment, the drying process itself, and safe storage. She addresses each fruit and vegetable individually and tells you exactly what you need to do to prep and dry each one. There's even an entire section on herbs and spices. She even covers meats and jerkies. Then she goes even further by discussing leathers and baby foods.
Once you've followed the author's instructions and are left with piles of beautifully dried foods safely packed away in your cupboards you may be wondering how you're going to use them all. Thankfully the author offers dozens of yummy recipes that use your bounty as well as providing all sorts of pantry and gift mix ideas.
Everything is extremely well done from the first page to the last. Whether you are new to drying foods or already a pro this is a great manual to have on your shelf and a true must buy for anyone interested in the subject. I highly, highly recommend it!
★★★★★
= Loved It
---
*This post may contain affiliate links*