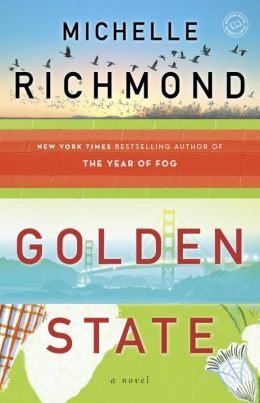 Perfect for fans of Jodi Picoult, Jacquelyn Mitchard, and Anna Quindlen, Golden State is a powerful, mesmerizing new novel that explores the intricacies of marriage, family, and the profound moments that shape our lives.

Doctor Julie Walker has just signed her divorce papers when she receives news that her younger sister, Heather, has gone into labor. Though theirs is a strained relationship, Julie sets out for the hospital to be at her sister's side—no easy task since the streets of San Francisco are filled with tension and strife. Today is also the day that Julie will find herself at the epicenter of a violent standoff in which she is forced to examine both the promising and the painful parts of her past—her Southern childhood; her romance with her husband, Tom; her estrangement from Heather; and the shattering incident that led to her greatest heartbreak.

Infused with emotional depth and poignancy, Golden State takes readers on a journey over the course of a single, unforgettable day—through an extraordinary landscape of love, loss, and hope.


---
Received for review.
I'll admit that at first this seemed just a little too out there for me. With California on the verge of seceding from the rest of the United States, and San Francisco in chaos it seemed just a little too unrealistic. The author did a brilliant job of making everything seem completely real and urgent.
The author jumped around in the timeline quite a bit which was confusing at first, but quickly made me want to find out more... and more. The bouncing around actually added to the story instead of taking away from it.
Julie was not someone I really sympathized with or even liked. I understood where she was coming from, but she still bothered me. The real turning point came when she questioned her marriage and whether she and her husband were really a family if they didn't have a child. I found that extremely offensive that you're not really a woman or a "real" family if you don't have children. That a woman's sole purpose in life, even if she is a doctor, is to have children, and that without them she and her relationships have no real worth.
Despite my mild dislike for Julie I found the story very intriguing. It drew me right in and I found myself reading as fast as I could to find out what happened.
Overall this was a very well written, thought provoking novel that I certainly recommend.
---
*This post may contain affiliate links*