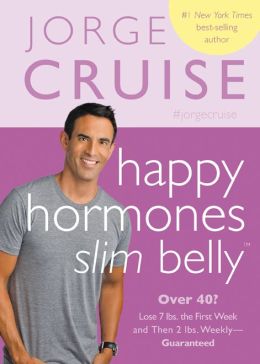 THE NEW DIETARY SCIENCE FOR WOMEN OVER 40

Science has revealed that most women are drawn to carbs, or "Sugar Calories," due to a biological imperative to balance hormones.

The irony is that you must cut Sugar Calories to lose weight, but you must also eat Sugar Calories to balance hormones.

With Happy Hormones, Slim Belly™, you will discover the newest dietary science for women over 40: Women'sCarb Cycling™.

It balances your hormones so you can lose up to 7 lbs. in a week, then 2 lbs. weekly—guaranteed!


---
Received for review.
I really like Jorge Cruise and have read several of his books so I was excited to read his latest released.
Jorge goes into exactly why hormones play such a large role in weight gain in women and just what you can do about it. He presents his diet plan in a clear, concise way and provides day by day meal plans. He also provides dozens of recipes for foods that are acceptable in his diet.
What I wasn't thrilled with was that this diet does not take into account any food allergies, so if you're allergic to nuts or dairy this is not the diet for you. It is also definitely not for vegetarians either. However, if you don't have any food sensitivities and enjoy an omnivorous diet then this is an excellent plan full of dishes that fill you up and satisfy your cravings.
Be aware that this also requires some specialty shopping in order to have the supplies you need to make the recipes. You'll need to pick up lots of coconut or almond flour, stevia and Truvia, and protein powder. Most of these are available online, but it's worth a heads up.
Overall this is an intelligent, well thought out plan that is sure to work well for women who follow its rules and I definitely highly recommend it.
---
*This post may contain affiliate links*