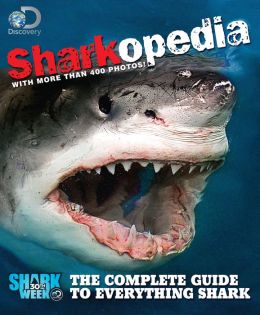 Meet the most incredible creatures in the sea! Sharkopedia takes you inside the exciting world of sharks.

From Discovery Channel, the people who bring you Shark Week every summer, learn everything there is to know about these awesome predators. The book includes more than 400 photos of sharks and all 498 known species of sharks.
Which shark has been clocked swimming 55 miles per hour?
What feeding habits give tiger sharks their nickname "garbage guts"?
Which shark has 25 rows of super-sharp teeth in its mouth?
And more!
---
Received for review.
I'm not normally a huge fan of sharks, but this gorgeously photographed volume was just too colorful to pass up.
This profiles a number of different shark species and covers absolutely everything you need to know about sharks including what they eat, how the interact with each other and humans, and their bodies inside and out. It's really quite fascinating. I was especially intrigued to learn that scientists are discovering new shark species all the time due to the availability of new models of deep sea diving equipment and the access that brings to new DNA sources.
If you are a shark fan this is a must read. It would also make a lovely gift for shark fans young or old. I definitely recommend this comprehensive educational and entertaining volume!
---
*This post may contain affiliate links*