Scott Cheshire, author of the book High as the Horses' Bridles, stopped by to share with us an excerpt from his book.


---
---
---
About the book: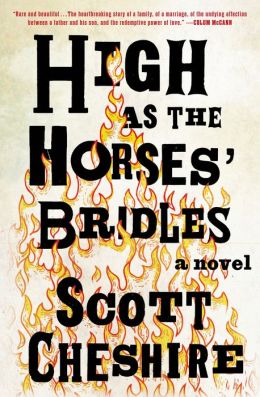 An urgent, electric debut novel about inheritance, belief, and a father and son divided by a dangerous prophecy
It's 1980 at a crowded amphitheater in Queens, New York and a nervous Josiah Laudermilk, age 12, is about to step to the stage while thousands of believers wait to hear him, the boy preaching prodigy, pour forth. Suddenly, as if a switch had been flipped, Josiah's nerves shake away and his words come rushing out, his whole body fills to the brim with the certainty of a strange apocalyptic vision. But is it true prophecy or just a young believer's imagination running wild? Decades later when Josiah (now Josie) is grown and has long since left the church, he returns to Queens to care for his father who, day by day, is losing his grip on reality. Barreling through the old neighborhood, memories of the past—of his childhood friend Issy, of his first love, of the mother he has yet to properly mourn—overwhelm him at every turn. When he arrives at his family's old house, he's completely unprepared for what he finds. How far back must one man journey to heal a broken bond between father and son?
---
About the author:
Scott Cheshire earned his MFA from Hunter College. He is the interview editor at the Tottenville Review and teaches writing at the Sackett Street Writers' Workshop. His work has been published in Slice, AGNI, Guernica and the Picador anthology The Book of Men. He lives in New York City.
---