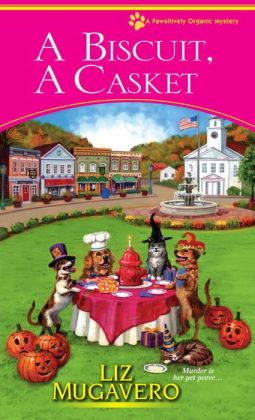 The small town of Frog Ledge, Connecticut, has wholeheartedly embraced Kristan "Stan" Connor's new business - preparing quality organic treats for dogs and cats. On a healthy diet, the animals may live longer...but one local farmer won't be so lucky.

As Halloween approaches, Stan is asked to cater a doggie costume party hosted by the Happy Cow Dairy Farm. Part of a local co-op, Happy Cow specializes in organic dairy products, and farmers Hal and Emmalee Hoffman have started opening up the farm for parties, offering a "haunted" corn maze as an added attraction. When Hal's lifeless body is found in the maze, the police at first suspect his wife, but Stan soon learns the dairy farmer had plenty of enemies - from bitter family members to shady business associates.

If Stan can't extract a kernel of truth from the labyrinth of lies, she may be the next one to buy the farm...


---
E-galley received for review.
I really enjoyed the first book in this series about Stan, an animal lover who starts her own organic pet food company from her home so I was excited to read this second installment.
While this was written very well and had an interesting mystery to it Stan's snottiness quickly began to wear on me as it had not in the first book. Her constant harping on how she had so much money that she didn't have to work but chose to start a home based organic pet food business anyway as a sort of hobby was really annoying. Her repeated snide comments about the dairy farmers and how their work made them not really her social equals and that she was helping out on the farm (doing the books) as a favor since she normally wouldn't stoop to that level normally (insert another comment about how she doesn't actually need to work here) were really just outright rude. Stan's mother didn't help the situation with her comments about Stan's relationship with Jake (a bartender, but it's okay because he owns the bar and dabbles in real estate). Yeah, yeah, we get it, Stan's a WASP, move on already!
Stan's best friend Nikki's constant complaints about the dairy farm and how the cows were mistreated (they weren't) were plain obnoxious. Nikki feels that everyone who dares to let a sip of milk, bit of cheese, or (heaven forbid) any meat pass between their lips is a sign that they are pure evil. Between Stan's WASP attitude and Nikki's harping on the farm and its owners being evil it really took away from the core of the book - the mystery!
Hopefully the author tones the haughtiness down a bit in the next installment. Don't get me wrong, I do like Stan. She clearly loves her furry family members, but she just has an unfortunate attitude towards her fellow humans.
If you enjoyed the first book in the series you will probably enjoy this one as well.
---
*This post may contain affiliate links*