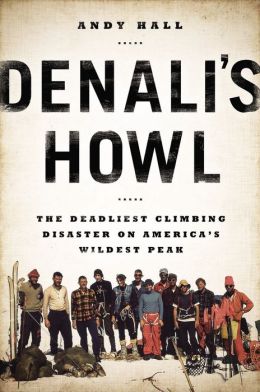 Denali's Howl is the white-knuckle account of one of the most deadly climbing disasters of all time.

In 1967, twelve young men attempted to climb Alaska's Mount McKinley—known to the locals as Denali—one of the most popular and deadly mountaineering destinations in the world. Only five survived.

Journalist Andy Hall, son of the park superintendent at the time, investigates the tragedy. He spent years tracking down survivors, lost documents, and recordings of radio communications. In Denali's Howl, Hall reveals the full story of an expedition facing conditions conclusively established here for the first time: At an elevation of nearly 20,000 feet, these young men endured an "arctic super blizzard," with howling winds of up to 300 miles an hour and wind chill that freezes flesh solid in minutes. All this without the high-tech gear and equipment climbers use today.

As well as the story of the men caught inside the storm, Denali's Howl is the story of those caught outside it trying to save them—Hall's father among them. The book gives readers a detailed look at the culture of climbing then and now and raises uncomfortable questions about each player in this tragedy. Was enough done to rescue the climbers, or were their fates sealed when they ascended into the path of this unprecedented storm?


---
Received for review.
Frankly, if I didn't know better, I would really have thought that this was a beautifully written suspense story instead of non-fiction. It has everything a great adventure novel calls for but it's all real.
From the illness and minor and major accidents on the climb to the penultimate storm this is a fascinating read about a group of brave men who risked everything for their dreams and those who would never return home. The author did a brilliant job of following the expedition step by step so you experienced everything as the climbers experienced it. You were there for all the small choices that led to such devastating consequences and it was really quite difficult to read at times, knowing what was coming.
The author clearly covered all the reasons for the expedition's failure and his research is impeccable. There's also an emotional aspect to the rescue attempts that is especially heartbreaking since the author's father was among those who tried to save the lost climbers.
The author leaves us to draw our own conclusions about just what happened on that mountain and why not all the bodies of the lost men were found. I thought that was a very respectful route to take and it made the book even more enjoyable to read.
Whether you're a mountain climbing fan or just in search of a fantastic suspense story this is an excellent read and I highly recommend it.
---
*This post may contain affiliate links*