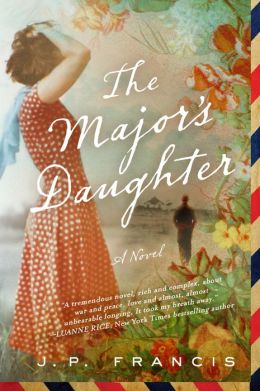 Like Snow Falling on Cedars, a stirring tale of wartime love

April, 1944. The quiet rural village of Stark, New Hampshire is irrevocably changed by the arrival of 150 German prisoners of war. And one family, unexpectedly divided, must choose between love and country.

Camp Stark is under the command of Major John Brennan, whose beautiful daughter, Collie, will serve as translator. Educated at Smith and devoted to her widowed father, Collie is immediately drawn to Private August Wahrlich, a peaceful poet jaded by war. As international conflict looms on the home front, their passion blinds them to the inevitable dangers ahead.

Inspired by the little-known existence of a real World War II POW camp, The Major's Daughter is a fresh take on the timeless theme of forbidden love.


---
Received for review.
I wanted to like this more than I actually did. It was a lovely concept and story but the characters were just lacking that little bit of something to make them truly sympathetic to the reader.
Collie was an interesting character, but I didn't really like her and I certainly wouldn't want to be friends with her in real life. She just felt very snotty and spoiled to me. And her friend, Estelle, was really no better. I'm not sure if they were products of their time or their class, but they just did nothing for me.
As for Collie's romance with August, it was rather predictable and not particularly exciting. Since I really couldn't empathize with Collie I frankly didn't care whether her relationship worked out or not. It was almost boring. The ending, which should have left me with at least a stirring of emotion just found me almost rushing to just get it all over with.
Overall, if you enjoy historical fiction this is a solid option which you should find entertaining.
---
*This post may contain affiliate links*