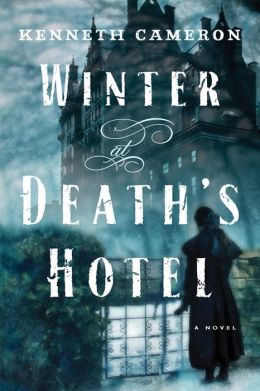 New York, January 1896.

Arthur Conan Doyle, the renowned created of Sherlock Holmes, arrives with his wife Louisa at the Britannic Hotel in New York for his first American tour. While Arthur prepares his lectures, Louisa becomes entranced by the vibrant, dangerous metropolis brimming with debauchery and iniquity around every corner.

When a woman's mutilated corpse turns up in a Bowery alley, Louisa recognizes the victim as someone she's seen in the hotel. Obsessed with the woman's gruesome death, Louisa starts piecing together clues to reveal a story of murder and depravity—a story that leads back to the hotel itself and a madman who is watching her every move.

From Fifth Avenue's glitzy opulence to the smoky boy's club of the New York Express and the Tombs of Lower Manhattan, Winter at Death's Hotel is an electrifying tale of a society caught in the throes of a story transformation and one woman determined to redeem it at whatever cost.


---
ARC received for review.
Despite knowing Louisa's ultimate fate in real life (to have her husband cheat on her during her long battle with tuberculosis and then marry the other woman barely a year after her death) I found this quite intriguing. It takes place in 1896, a year before Conan Doyle meets the other woman, and Louisa is healthy and hearty. It's a nice change to see her this way, rather than as the invalid other authors inevitably portray her as. In any case, Louisa was an interesting choice as the main character and a good one as her rather meek and mousy self made for an unlikely heroine.
The book certainly does not portray New York in its best light, but the dirt, death, and cruelty go well with the mystery. I'd hoped for a better portrayal of New York City policemen, but I guess you can't have everything.
The mystery itself was interesting, with plenty of twists, turns, and action. I can't imagine that it was particularly historically accurate, but it was interesting nonetheless.
Overall, this was a promising start to what I hope will become a long series and I highly recommend it to historical fiction fans.
---
*This post may contain affiliate links*