---
About the book: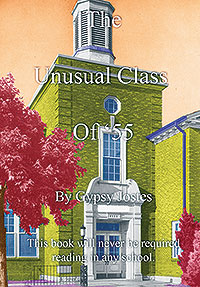 The Unusual Class Of '55 is a story about high school life in the mid-fifties with a very unusual twist.

A catastrophic condition the class found itself in, caused them to unite in a sociological phenomenon experiment that may never be repeated: the class took control of its own education.

The work is also a documentation of high school life in the fifties that can be compared with high school life today.

In just six decades bad behavior changed from chewing gum to carrying a gun.

This is an unusual book with an unusual story written by an unusual author sprinkled with some very unusual brain sneezes.


---
About the author:
Gypsy Jostes was born at a very early age. He was an outstanding student generally out standing in the hallway... (Enough with the old jokes) Gypsy graduated from the Ranken Technical College in St. Louis, Missouri. And he started his forty-three-year career with the Otis Elevator Company, working from jobs on high steel to the supervision level. He never lost the lesson he learned while in High School: Have fun and enjoy life. The highlight of his working years was the three years he lived and worked in Shanghai, China, helping to start a new company. He courted his future wife (Anne) by flying his airplane each weekend to Columbia, Missouri, where she lived. They were married after about three dates and have been married fifty-three years and counting. They have four children: Bud, Randall, HollyLu and Chris, and nine grandchildren. Gypsy has been published in two short stories: "In Quest of It" in the BIG MUDDY, a Journal of the Mississippi River Valley, and "Goose Wars" in the Farm & Ranch Living magazine.
---
*This post may contain affiliate links*