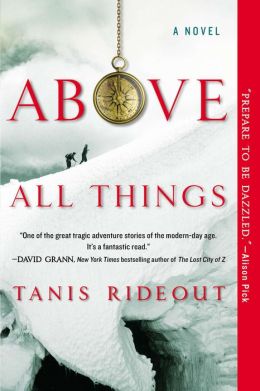 A New York Times Editor's Choice

1924. George Mallory is arguably the last great British explorer, having twice tried—and failed—to conquer Mount Everest. The mountain has haunted him, but his attempts have captivated the hearts of a nation desperate to restore its former glory after World War I. Yet George has sworn to his wife, Ruth, that he will not mount a third attempt. He will remain with her and their three children instead of again challenging the unreachable peak.

Then, one afternoon, Ruth reads a telegram addressed to George: "Glad to have you aboard again." And with this one sentence, the lives of the Mallorys, and the face of the nation, are irrevocably changed.

A beautifully rendered story about the need for redemption and the quest for glory, Above All Things is a captivating blend of historical fact and imaginative fiction. It is a heartbreaking tale of obsession, sacrifice, and what we do for love and honor.


---
Received for review.
I have to admit that initially I was a bit confused, and even irritated at points, that the story was told from three different perspectives - that of Mallory himself, his wife Ruth, and another climber Sandy. It really seemed like overkill at first but by a few chapters in I got used to it and things went smoothly from there.
This was a lovely blend of historical fact and fiction. It was truly difficult to believe that it was not all fact by the way the author beautifully handles the material. She skillfully show us George's determination and Ruth's heartbreaks and struggles. Sandy's story didn't do as much for me but it was still interesting and added a new dimension to the book as a whole.
What I found especially interesting was that the group climbed without the sophisticated technology and climbing gear available today. These men actually climbed the mountain on their own power. It really made me look at the people who climb Everest now as almost cheating as they use oxygen and specialty gear. It's an interesting new perspective that I hadn't really thought about before this book.
Overall this was a fascinating read which provided a fresh new look into the people behind the history. I highly, highly recommend it.
★★★★
☆
= Really Liked It
---
*This post may contain affiliate links*