---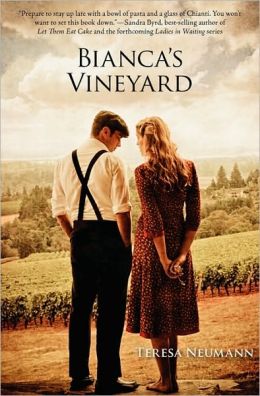 Bianca Corrotti's vineyard is more than a piece of mouth-watering real estate in Tuscany.

It's an inheritance; a storehouse harboring the secrets of her Uncle Egisto, a world-class sculptor, and his troubled wife -- a woman whose destiny converges with Mussolini's when WWII overtakes them all.

Based on a true story, Bianca's Vineyard follows a devoted family of strong-willed men and lion-hearted women waging an epic battle against a gathering storm intent on destroying their lives.
---
Received for review.
I wanted to like this as it sounded quite intriguing from the description and I liked how it was based on a real family but it was a bit of a disappointment.
From the very beginning this was incredibly slow moving. I didn't look forward to picking it up again after taking a break from it, and finishing it was an absolute chore. It was just so boring and drawn out. It felt like watching the scenes set in Italy from Godfather movies with all the good parts cut out. It was all just endless, mind numbing details with very little actual action.
The setting was interesting but the characters were, again, boring. They didn't feel well rounded and I, frankly, didn't care one way or another about them or their fates. By the time I slogged my way to the end I was actually beginning to resent the sheer number of characters that I needed to keep track of.
Unless you really, really like fiction set in WWII Italy I really cannot recommend this.
---
*This post may contain affiliate links*