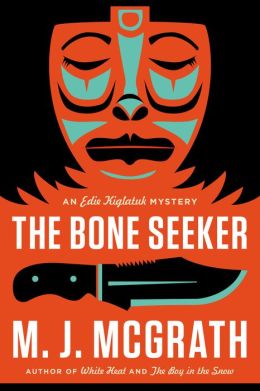 The intrepid Edie Kiglatuk discovers one of her female students dead in a toxic lake in her third arctic mystery

In the third novel in this highly praised mystery series that will appeal to fans of The Killing, Top of the Lake, and The Bridge, Edie Kiglatuk works as a summer school teacher in the Canadian arctic. When one of her female students is found dead in nearby Lake Turngaluk, Edie enlists the help of Sergeant Derek Palliser to pursue the case, promising the girl's Inuit family that they will uncover the truth. Meanwhile, lawyer Sonia Gutierrez investigates the toxicity of the lake and suspects that there might be a larger conspiracy involved. As the three clamber over rocky terrain under twenty-four-hour daylight they start to unearth secrets long frozen over—risking their own lives in the process. With stunning prose, M. J. McGrath delivers another thrill ride through a hauntingly beautiful landscape.


---
Received for review.
I have to say that I knew virtually nothing about life in the Canadian Arctic before I read this and it really opened my eyes to what a cruel, hard life it is, even in modern times.
There were quite a few unfamiliar words, including many place names, which slowed down my reading rather significantly at first but I quickly became accustomed to them and they were no longer an issue after the first few chapters.
The mystery was interesting, as were the characters. I can't say that I truly connected with any of the characters but they had a feel to them that I really liked. They, and the story, actually reminded me quite a bit of the show The Killing (the U.S. version). It just had that inexplicable feel to it that was oddly soothing for a book of this type.
This is the third of a series so it's best if you start at the beginning but this is an excellent stand alone novel as well. You may miss a few things if you haven't read the first two books but there's nothing critical that takes away from the plot.
I definitely highly recommend this to mystery fans looking for something different. The unique setting and characters make for a very interesting read which you are sure to enjoy.
★★★★
☆
= Really Liked It
---
*This post may contain affiliate links*