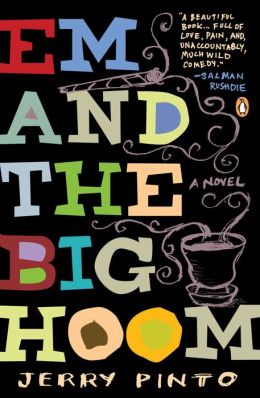 "Profoundly moving . . . I cannot remember when I last read something as touching as this." —Amitav Ghosh, author of The Glass Palace

First published by a small press in India, Jerry Pinto's devastatingly original debut novel has already taken the literary world by storm. Suffused with compassion, humor, and hard-won wisdom, Em and the Big Hoom is a modern masterpiece, and its American publication is certain to be one of the major literary events of the season.

Meet Imelda and Augustine, or—as our young narrator calls his unusual parents—Em and the Big Hoom. Most of the time, Em smokes endless beedis and sings her way through life. She is the sun around which everyone else orbits. But as enchanting and high-spirited as she can be, when Em's bipolar disorder seizes her she becomes monstrous, sometimes with calamitous consequences for herself and others. This accomplished debut is graceful and urgent, with a one-of-a-kind voice that will stay with readers long after the last page.


---
Received for review.
This was actually quite an interesting and mildly amusing novel until the very end which ruined the entire thing for me.
The entire book is quite difficult to follow at first. It jumps around a bit and characters are referred to by numerous, completely different names. It did come together about the midway point though and became quite readable.
Despite their clear love for one another I was not drawn to any of the characters as people. They were all rather shallow and rather selfish. It was difficult to really become engrossed in their stories when they were such disagreeable people.
What ruined this the most for me was the final few pages where the main character makes two unfortunate comments - the first when handing out food to homeless people "Beggars can't be choosers." which I thought was in extremely bad taste until I saw the second comment - "Do the poor have allergies?". That was just beyond bad taste and made me sincerely dislike the character even more, if possible. I was frankly shocked at his callous attitude. It was completely uncalled for and quite disgusting behavior.
So, while this is interesting at parts it didn't do much for me in the way of an emotional connection with the characters. The final few paragraphs completely ruined the entire book for me and I was tempted to throw it against a wall but, thankfully, the book was already over. I really cannot recommend this.
★★
☆☆☆
= Just Okay
---
*This post may contain affiliate links*