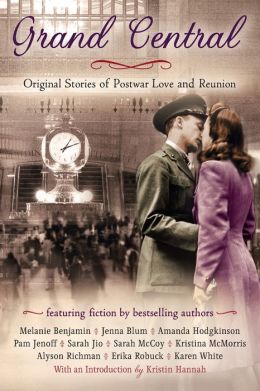 A war bride awaits the arrival of her GI husband at the platform…

A Holocaust survivor works at the Oyster Bar, where a customer reminds him of his late mother…

A Hollywood hopeful anticipates her first screen test and a chance at stardom in the Kissing Room

On any particular day, thousands upon thousands of people pass through New York City's Grand Central Terminal, through the whispering gallery, beneath the ceiling of stars, and past the information booth and its beckoning four-faced clock, to whatever destination is calling them. It is a place where people come to say hello and good-bye. And each person has a story to tell.

Now, ten bestselling authors inspired by this iconic landmark have created their own stories, set on the same day, just after the end of World War II, in a time of hope, uncertainty, change, and renewal….


---
Received for review.
I'm a big fan of short story compilations since they're so fast to read and it's satisfying to finish an entire story in a single sitting. Having visited Grand Central Terminal in New York City several times made this even more fun to read since I could really connect with the setting.
Each of the ten stories had its own unique twist on the theme and it was fun to see all the stories unfolding on a single day. It really made me think about all the stories of all the people who pass through that terminal in a single day.
All the stories were very good but I think my favorite was Pam Jenoff's Strand of Pearls. It was beautiful and heartbreaking and completely satisfying.
I highly recommend this lovely collection of stories from very talented authors.
★★★★
☆
= Really Liked It
---
*This post may contain affiliate links*