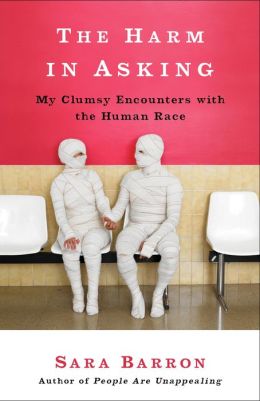 Welcome to the perverse and hilarious mind of Sara Barron. In The Harm in Asking, she boldly addresses the bizarre indignities of everyday life: from invisible pets to mobster roommates, from a hatred of mayonnaise to an unrequited love of k.d. lang, from the ruinous side effect of broccoli to the sheer delight of a male catalogue model. In a voice that is incisive and entirely her own, Barron proves herself the master of the awkward, and she achieves something wonderful and rare: a book that makes you laugh out loud. Simply put: if you read it, you will never be the same.*

*That's not true. You'll probably stay the same. But you'll have laughed a lot. And you'll have learned a fun fact about Jessica Simpson's home spray. See? You didn't even know she had a home spray! The learning has already begun.


---
Received for review.
This truly was one of the funniest books I have read in quite some time. Every single page had me cringing or laughing, sometimes at the same time!
The author's stories from smoking pot at a Paula Cole concert and her pot related antics at said concert which caused her to be thrown out of the concert, to her dating stories were just too funny. It felt like I was listening to a friend tell me all her crazy stories and she described it so well that I could picture every scene.
The author is someone that I'd actually like to be friends with in real life. She is just so cool and crazy and fun. It would be so entertaining to meet her for lunch once a week and listen to her tell me all her bizarre stories.
If you're looking for the perfect fun and funny summer read this is it. I definitely recommend it - along with a box of tissues which you'll need when you start tearing up from laughing so hard. I cannot wait to read future releases from this very talented author!
---
*This post may contain affiliate links*