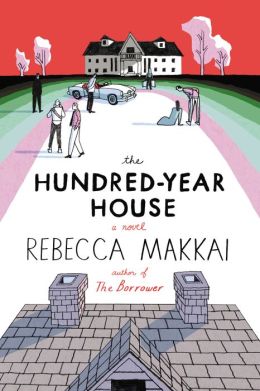 The acclaimed author of The Borrower returns with a dazzlingly original, mordantly witty novel about the secrets of an old-money family and their turn-of-the-century estate, Laurelfield.

Meet the Devohrs: Zee, a Marxist literary scholar who detests her parents' wealth but nevertheless finds herself living in their carriage house; Gracie, her mother, who claims she can tell your lot in life by looking at your teeth; and Bruce, her step-father, stockpiling supplies for the Y2K apocalypse and perpetually late for his tee time. Then there's Violet Devohr, Zee's great-grandmother, who they say took her own life somewhere in the vast house, and whose massive oil portrait still hangs in the dining room.

Violet's portrait was known to terrify the artists who resided at the house from the 1920s to the 1950s, when it served as the Laurelfield Arts Colony—and this is exactly the period Zee's husband, Doug, is interested in. An out-of-work academic whose only hope of a future position is securing a book deal, Doug is stalled on his biography of the poet Edwin Parfitt, once in residence at the colony. All he needs to get the book back on track—besides some motivation and self-esteem—is access to the colony records, rotting away in the attic for decades. But when Doug begins to poke around where he shouldn't, he finds Gracie guards the files with a strange ferocity, raising questions about what she might be hiding. The secrets of the hundred-year house would turn everything Doug and Zee think they know about her family on its head—that is, if they were to ever uncover them.

In this brilliantly conceived, ambitious, and deeply rewarding novel, Rebecca Makkai unfolds a generational saga in reverse, leading the reader back in time on a literary scavenger hunt as we seek to uncover the truth about these strange people and this mysterious house. With intelligence and humor, a daring narrative approach, and a lovingly satirical voice, Rebecca Makkai has crafted an unforgettable novel about family, fate and the incredible surprises life can offer.


---
Received for review.
I never did read the author's first novel, The Borrowers, so I wasn't sure what to expect with this one despite the excellent recommendations it had. I was a tiny bit disappointed.
The story was interesting and I liked the idea of going back in time to discover the secrets of the house and its inhabitants but I just couldn't connect with the characters. Zee is so typically a whiny rich brat who claims to hate her parents being incredibly rich but still has them funding her lifestyle. She actually reminded me of Piper from Orange is the New Black. Whiny and rich and completely clueless that her life is actually not as bad as she claims it is. Actually, her husband, Doug is significantly more likable despite his many flaws. At least he had some depth to him.
So, while the story itself is interesting and its presentation unique, the characters don't do much for it. It's worth a try though, especially if you are a fan of the author's first book.
---
*This post may contain affiliate links*