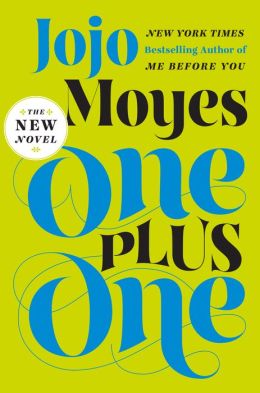 One single mom. One chaotic family. One quirky stranger. One irresistible love story from the New York Times bestselling author of Me Before You

American audiences have fallen in love with Jojo Moyes. Ever since she debuted Stateside she has captivated readers and reviewers alike, and hit the New York Times bestseller list with the word-of-mouth sensation Me Before You. Now, with One Plus One, she's written another contemporary opposites-attract love story.

Suppose your life sucks. A lot. Your husband has done a vanishing act, your teenage stepson is being bullied, and your math whiz daughter has a once-in-a-lifetime opportunity that you can't afford to pay for. That's Jess's life in a nutshell—until an unexpected knight in shining armor offers to rescue them. Only Jess's knight turns out to be Geeky Ed, the obnoxious tech millionaire whose vacation home she happens to clean. But Ed has big problems of his own, and driving the dysfunctional family to the Math Olympiad feels like his first unselfish act in ages . . . maybe ever.

One Plus One is Jojo Moyes at her astounding best. You'll laugh, you'll weep, and when you flip the last page, you'll want to start all over again.


---
Received for review.
I've become quite the Jojo Moyes fan lately and was excited to discover that her latest book was out. She writes absolutely perfect beach reads and this was no different.
This was such a fun book since it was written from the perspectives of all the characters in turn. It was so unique and entertaining to read what each character was thinking and really get inside their head as the story progressed.
The whole idea of a road trip with a woman, her two eccentric kids, their dog, and an annoying rich dude was just so awesome to begin with and their adventures were so upbeat and funny. I could seriously see this as a movie, it was that rich and entertaining, probably starring Adam Sandler.
This sweet, funny, thoroughly enjoyable read was absolutely perfect for summer and I definitely highly, highly recommend it. This is truly a must for every bag bound for the beach this summer.
★★★★
☆
= Really Liked It
---
*This post may contain affiliate links*