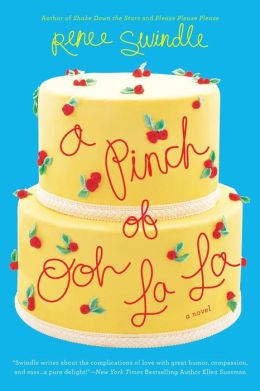 To get to happily ever after, sometimes you need to start from scratch....

Abbey Ross, who runs her own bakery in Oakland, California, is known for her visually stunning wedding cakes. But lately, Abbey's own love life has become stale. According to her best friend, Bendrix, Abbey's not the spontaneous young woman she was when they were teenagers listening to the Cure and creating attention-grabbing graffiti. Of course, her failed relationship with a womanizing art forger might have something to do with that. Nevertheless, it's time for Abbey to step out of the kitchen—and her comfort zone—and Bendrix has even handpicked a man for her to date.

Samuel Howard is everything Abbey's dreamed of: handsome, successful, and looking to raise a family. But a creamy icing might be needed to hide a problem or two. When Samuel complains about disrespect for the institution of marriage, Abbey's reminded of her nontraditional family, with thirteen children from various mothers. And when Samuel rails about kids having kids, Abbey thinks of her twenty-year-old sister who's recently revealed her pregnancy.

Soon Abbey is facing one disaster after another and struggling to make sense of it all. Her search for love has led her down a bitter path, but with the help of her unique family and unwavering friends, she just might find the ooh la la that makes life sweet.


---
Received for review.
This is pretty standard Chick Lit with a woman desperately wanting a husband and children because her biological clock is ticking. And, of course, she runs a bakery. If you add in a murder this could be any number of cozy mystery books.
What sets this (a bit) apart is that Abbey goes around spray painting buildings. She seems to take some sort of joy in it. Frankly, I almost liked her until she started with that nonsense. I mean, really, she's in her mid-thirties and she should know better by then that graffiti is inappropriate. I was actually glad when she had to pay for her actions. Graffiti is not art it is a destruction of property that is just plain wrong. I'm not entirely sure why the author thinks that promoting destruction of property is a good idea, but at least she had the good sense to have Abbey face the consequences of her actions.
In any case, with the thirty something main character, her gay best friend, and her bakery this is rather formulaic Chick Lit. There's nothing particularly endearing about it but it isn't outright bad either. It just left me feeling rather neutral but you're a fan of Chick Lit then you'll certainly enjoy this.
---
*This post may contain affiliate links*