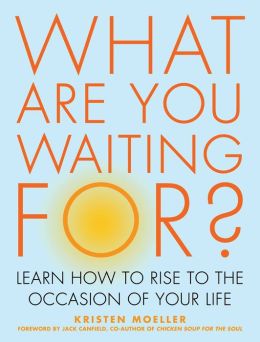 Stop Waiting. Start Living.

Are you waiting for your "real" life to kick in? Are you always busy making other plans while constantly striving to improve yourself?

Through candid stories and insightful lessons, writer and self-proclaimed "self-help junkie" Kristen Moeller helps us explore the pervasive human tendency to wait as life goes by and to look outside ourselves for answers. As Wayne Gretzky once said, "You will always miss 100 percent of the shots you don't take."

Kristen Moeller's mission in life is to inspire you to get on the path, move forward and take the shot. Everything you need for happiness and fulfillment is right inside of you.


---
Received for review.
The back cover made this sound like a good book but I was seriously disappointed.
This self-proclaimed "self-help junkie" didn't provide the reader with any new information at all. She just offered up the same tired self-help suggestions that every other author does, while sprinkling in some personal stories of how "tough" it is to be so successful.
I really felt no connection to this rather shallow and unlikeable author. Her stories were not inspiring in the least.
There was some well worn advice she repeated that was thought provoking but it certainly wasn't life changing.
Overall this was a decent book but if you've read any self-improvement books then you'll most likely not find much new in this.
★★★
☆☆
= Liked It
---
*This post may contain affiliate links*