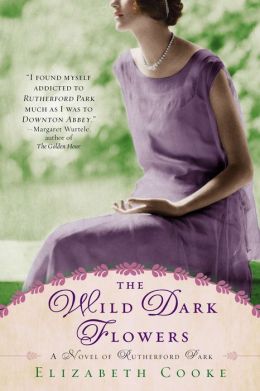 "I found myself addicted to Rutherford Park, much as I was to Downton Abbey" (Margaret Wurtele on Rutherford Park). Now comes the new novel of Rutherford Park by the acclaimed Elizabeth Cooke…...

When May came that year in Rutherford, it was more beautiful than anyone could ever remember. More beautiful, and more terrible…...

From inside their sprawling estate of Rutherford Park, the Cavendish family had a privileged perspective of the world. On the first morning in May, 1915, with a splendid view that reached across the gardens to the Vale of York, nothing seemed lovelier or less threatening. And yet...…

At the risk of undoing the Cavendish name with scandal, William and Octavia Cavendish have been living a lie, maintaining a marriage out of duty rather than passion. But when their son Harry joins the Royal Flying Corps in France, the Cavendish family are forced to face the unavoidable truths about themselves, the society in which they thrive, and the secrets they can no longer bear.

In the wake of a terrible war, the emotional shifts between a husband and a wife, a wife and her lover, and a mother and her children, will shake the very foundation of the Cavendish family, and change the uniquely vulnerable lives of all who reside at Rutherford Park.


---
Received for review.
This was a very interesting read for me. I've read many books set in the time period (mainly Agatha Christies) but I've never really considered the lives of the characters beyond their involvement in the mystery. This provided an intriguing look into the lives of the wealthy men and women of the time.
I didn't particularly care for any of the characters. Their "poor me" attitudes were a bit wearying since they had every luxury money could buy but were still whining and behaving badly.
I was especially irritated by Octavia's incessant whining about how tough it was to be a woman and how the war never would have started if women were in charge. This really became a main focus of the book and turned it from amusing historical fiction into a grating feminist commentary on the times. It just really took away from what could have been an interesting story. If I'd wanted to read about the oppression of women in the early 1900s I would have picked up a nonfiction book.
So, while this had promise and was very well written, the characters were annoying at best and the political views were overwhelming enough to take away most of the reading enjoyment. Some historical fiction fans may still find it an interesting read though.
★★★
☆☆
= Liked It
---
*This post may contain affiliate links*