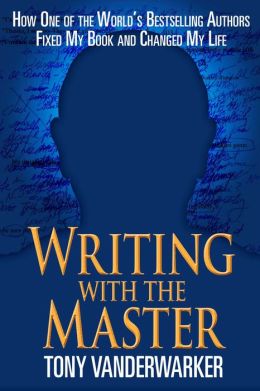 With seven unpublished novels wasting away on his hard drive, Tony Vanderwarker is astonished when John Grisham offers to take him under his wing and teach him the secrets of thriller writing. "The beginning and the end are easy," Grisham tells him. "It's the three hundred pages in the middle that's the hard part."

To ensure his plot doesn't run out of gas, Grisham puts Tony though his outline process. Tony does one, and then Grisham asks for another … and another … and another. As they work together, Grisham reveals the techniques that have helped him create compelling bestsellers for more than two decades—for instance, "You've got to hook your reader in the first forty pages or you'll lose them." After a year of constructing outlines, Grisham finally gives Tony the go-ahead to start writing.

Writing with the Master immerses the reader in the creative process as Tony struggles to produce a successful thriller. It's a roller coaster ride, sometimes hilarious, and often full of ups and downs. Grisham's critiques and margin notes to Tony reveal his nimble imagination and plot development genius. For Grisham fans, Vanderwarker's memoir pulls back the curtain on his writing secrets, and for aspiring writers, it's a master class in thriller writing.

In the end, Tony resolves to take Grisham's teachings to heart and eventually decides to write what he thinks he was meant to: a book about the creative process and his incredible two years working with John Grisham.


---
Received for review.
I'm not the biggest fan of John Grisham's latest books but I loved A Time to Kill, The Pelican Brief, and The Firm so I simply had to read this.
The important thing to note is that this is not really about John Grisham at all, it's about the author's experiences with him and his reactions to Grisham's input. As such it was a bit disappointing.
This wasn't bad or anything but it was a bit on the whiny side. The author constantly whined about Grisham's input and how tough it was to write. It was hard to sympathize with a rich guy writing as a hobby.
Authors may find this more interesting, but as a reader I found it rather dry and borderline amusing at best. It's certainly educational but it is definitely not entertaining. If you're an author looking to learn this is worth a peek but if you're a Grisham fan you'll probably be let down.
★★★
☆☆
= Liked It
---
*This post may contain affiliate links*