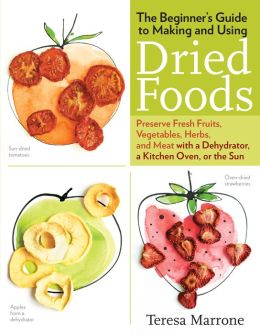 Food Preservation Made Simple

YOU CAN DEHYDRATE vegetables, fruits, meats, herbs, and even prepared meals.

Drying is simple and safe, and it offers delicious, lightweight options for campers, food gardeners, raw foodists, and anyone with a surplus of fresh foods.

Whether you're using a dehydrator, experimenting with sun-drying techniques, or starting out with your regular oven, you'll be an expert in no time with this book's complete instructions for drying dozens of foods.

Plus, you'll find more than 140 recipes for using your dehydrated ingredients in delicious ways.


---
E-galley received for review.
I love my dehydrator and am always looking for new ideas on how to maximize its uses to preserve the harvest from my garden so I was excited to pick up this book.
While I liked that the book covered various means of dehydrating (solar, electric dehydrator, oven) it quickly became overwhelming as it added considerable length to the section for each fruit and vegetable since the author had to give tips for each method.
This does comprehensively cover everything from apples to jerky but the organization of the book leaves a bit to be desired. It feels rather disorganized and hard to follow. I also really, really disliked that each fruit or vegetable did not start on its own page - they were all run together which made quickly locating the information you were after virtually impossible.
Overall, this is a good introduction to the subject for complete beginners but those with any sort of experience or those who want a reference book to refer to again and again will find this a bit lacking.
---
*This post may contain affiliate links*