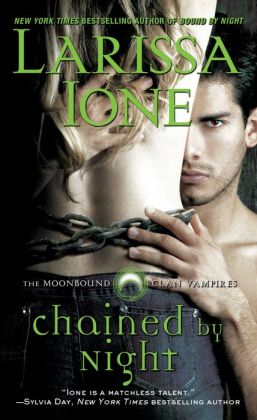 Larissa Ione sets the night on fire with a thrilling new novel of irresistible hungers and immortal enemies in a world as sensual and dark as her Demonica series…

THE FUTURE OF HIS TRIBE Leader of the vampire clan MoonBound, Hunter will do what he must to save his people from extinction—or worse, a torturous eternity as vampire slaves and subjects of human experimentation. To keep his enemies at bay, he has agreed to mate a rival clan leader's daughter in return for peace between the clans and an ally in the looming war with the humans.

THE LOVER OF HIS SOUL But survival comes at a price. First, Hunter must break an ancient curse by successfully negotiating three deadly tests. Then he must resist the searing passions of the gorgeous vampire warrior he despises but is bound to mate. Will Hunter stay true to his word? Or will he risk everything for the woman he really loves: the vampire seductress's identical twin sister?


---
Received for review.
I'm not a huge vampire fan but having read the first book I decided I needed to know what happened in this second volume.
While I wasn't overly impressed by the rather lackluster characters I do have to admit that the author did do a brilliant job of creating a complete world for those characters. The mythology is well thought out and cohesive. The problem was that I just didn't care. Yeah, Hunter is the clan leader and yeah he has to mate with a woman he doesn't like. Yawn. There's a lot of angst and it's just a bit wearying after a while.
The romantic aspect left quite a bit to be desired as well. There was just too much sex and blood and violence and no enough actual romance. Since the romantic slant was supposed to be a selling point of the book it was rather disappointing to find that there actually wasn't any.
So, while this was well written it's just kind of blah. If you've read the first book you'll probably enjoy this as well, but don't make this your first introduction to the author's work. It's not a great first impression.
---
*This post may contain affiliate links*