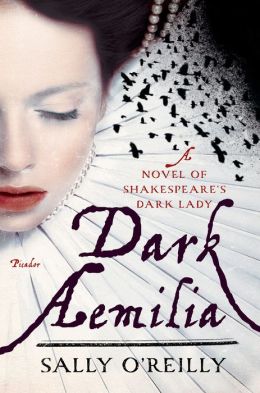 A TALE OF SORCERY AND PASSION IN SEVENTEENTH-CENTURY LONDON—WHERE WITCHES HAUNT WILLIAM SHAKESPEARE AND HIS DARK LADY, THE PLAYWRIGHT'S MUSE AND ONE TRUE LOVE

The daughter of a Venetian musician, Aemilia Bassano came of age in Queen Elizabeth's royal court. The Queen's favorite, she develops a love of poetry and learning, maturing into a young woman known not only for her beauty but also her sharp mind and quick tongue. Aemilia becomes the mistress of Lord Hunsdon, but her position is precarious. Then she crosses paths with an impetuous playwright named William Shakespeare and begins an impassioned but ill-fated affair.

A decade later, the Queen is dead, and Aemilia Bassano is now Aemilia Lanyer, fallen from favor and married to a fool. Like the rest of London, she fears the plague. And when her young son Henry takes ill, Aemilia resolves to do anything to save him, even if it means seeking help from her estranged lover, Will—or worse, making a pact with the Devil himself.

In rich, vivid detail, Sally O'Reilly breathes life into England's first female poet, a mysterious woman nearly forgotten by history. Full of passion and devilish schemes, Dark Aemilia is a tale worthy of the Bard.


---
Received for review.
I've been fascinated by Shakespeare's live ever since I saw the movie Shakespeare in Love so I was thrilled to read this.
I know I was supposed to care that Amelia was the England's female poet but, frankly, I didn't. This was written with a very firm feminist view and the constant harping on gender inequality in the age was a more than a bit wearying. However, the writing and the story itself were good enough that I was able to read this without throwing it against a wall in frustration at its political agenda.
This is really gorgeously written. The writing has a rare quality to it that transports you into the scene like you are watching it, rather than just reading words on a page. It evokes the feel of the time period without weighing you down with irritating Old English everywhere.
I never did like Amelia herself, although her activities were quite interesting. I did, however, find her interactions with Shakespeare himself fascinating. It was really interesting to see how she she him as both a man and a writer and I have to say that the Shakespeare of this book is pretty darn cool. I'd certainly want to know him in real life.
This rather lengthy book was actually a reasonably fast read since really drew me in and kept me interested the entire time I was reading. I never found myself counting the pages until a chapter ended as I might have expected.
So, if you can get past the rather overwhelming feminist agenda of the book this is actually a really fascinating new look at a truly amazing man and I definitely recommend it. If you like feminist literature you'll certainly enjoy this even more.
★★★★
☆
= Really Liked It
---
*This post may contain affiliate links*