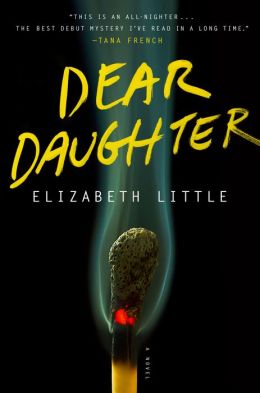 A sensational debut thriller featuring an unforgettable heroine who just might have murdered her mother

Former "It Girl" Janie Jenkins is sly, stunning, and fresh out of prison. Ten years ago, at the height of her fame, she was incarcerated for the murder of her mother, a high-society beauty known for her good works and rich husbands. Now, released on a technicality, Janie makes herself over and goes undercover, determined to chase down the one lead she has on her mother's killer. The only problem? Janie doesn't know if she's the killer she's looking for.

Janie makes her way to an isolated South Dakota town whose mysteries rival her own. Enlisting the help of some new friends (and the town's wary police chief), Janie follows a series of clues—an old photograph, an abandoned house, a forgotten diary—and begins to piece together her mother's seemingly improbable connection to the town. When new evidence from Janie's own past surfaces, she's forced to consider the possibility that she and her mother were more alike than either of them would ever have imagined.

As she digs tantalizingly deeper, and as suspicious locals begin to see through her increasingly fragile facade, Janie discovers that even the sleepiest towns hide sinister secrets—and will stop at nothing to guard them. On the run from the press, the police, and maybe even a murderer, Janie must choose between the anonymity she craves and the truth she so desperately needs.

A gripping, electrifying debut novel with an ingenious and like-it-or-not sexy protagonist, Dear Daughter follows every twist and turn as Janie unravels the mystery of what happened the night her mother died—whatever the cost.


---
Received for review.
When I saw that Sara Shepard, author of my beloved The Lying Game books, enjoyed reading this I had to get a copy for myself and I must agree with Ms. Shepard that this is an excellent debut!
First off, I never did get to like Janie. I wanted to, I really did, but she just was not sympathetic. I did however, thoroughly enjoy reading about her adventures.
The entire premise that neither the reader nor the main character knows until the very end if she actually committed the crime was quite original and drew me in right away. The pace was very good and it swept me up and made reading this rather lengthy novel quite enjoyable. The ending was absolutely perfect and left me closing the book with a satisfied smile.
This was an excellent first novel and I cannot wait to read more from this very talented author. I definitely highly recommend this!
★★★★
☆
= Really Liked It
---
*This post may contain affiliate links*