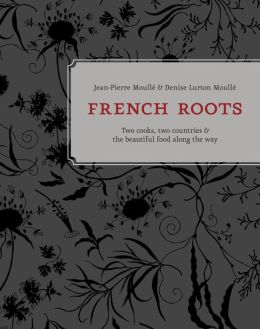 A narratively rich cookbook of French and Californian recipes from longtime Chez Panisse executive chef Jean-Pierre Moulle and his wife, Denise Moulle.

Jean-Pierre and Denise Moullé met on a street corner in Berkeley, California, in 1980; six months later they were married. French Roots is the story of their lives told through the food they cook—beginning with the dishes of old-world France, the couple's birthplace, and focusing on the simple, pared-down preparations of French food common in the postwar period. The story then travels to the San Francisco Bay Area in the 1970s, where Jean-Pierre was appointed executive chef at Chez Panisse when California cuisine was just emerging as a distinctive and important style, and where Denise began importing French wine. Finally, the journey follows the couple to their homes in Sonoma, California, and Bordeaux to revisit the classic dishes of the Moullés' native country and hone the forgotten skills of foraging, hunting, and preserving.

Exquisitely written, with recipes that are innovative and timeless, insights on cooking and thinking like a chef, and an insider's guide to the wines of Bordeaux, French Roots is much more than a cookbook—it's a guide to living the good life.

---
Received for review.
I love all things French, so I was thrilled to come across this lovely book. Of course, everyone has heard of Chez Panisse so it was especially interesting to read about the author's journey to becoming its Executive Chef.
The first thing you notice is just how much the Pierre and Denise love food and life. There is just such a joy and richness when they speak about food and cooking that transfers to the reader so you become almost as excited about it as they are while you are reading about their adventures.
This is not your typical cookbook, it's more of a story about food and the love of cooking with a few recipes thrown in than it is about a book full of recipes. That makes it an interesting read as well as a nice source of new recipes.
Most of the recipes are not overly complicated and most home cooks should be able to handle them nicely. These are recipes for those who truly love food so this is probably not for you if you are looking for something to fit into a specialty vegan or low fat diet.
This is a lovely read with lots of nice recipes and packed with gorgeous photographs. Even if you never make a single recipe it is well worth a read.
★★★★
☆
= Really Liked It
---