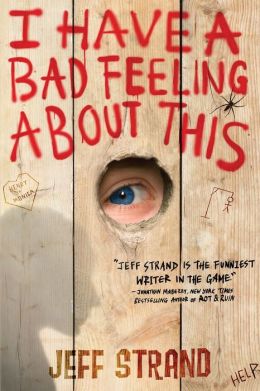 Henry Lambert would rather play video games than spend time in the great outdoors—but that doesn't make him a wuss. Skinny nerd? Fine. But wuss is a little harsh. Sadly, his dad doesn't agree. Which is why Henry is being shipped off to Strongwoods Survival Camp.

Strongwoods isn't exactly as advertised. It looks like the victim of a zombie apocalypse, the "camp director" is a psycho drill sergeant, and Henry's sure he saw a sign written in blood...

Wilderness Survival Tip #1
Drinking your own sweat will not save your life. Somebody might have told you that, but they were trying to find out if you'd really do it.

Wilderness Survival Tip #2
In case of an avalanche, don't despair. You're doomed, but that's a wicked cool death.

Wilderness Survival Tip #3
If you're relying on this book for actual survival tips, you're dead already.


---
ARC received for review.
Really, how could I pass up a book about a nerdy guy attending a military style survival camp? Just reading the book description made me laugh so I knew it would be good - and it was!
The story was genuinely funny and I loved reading about Henry's various adventures at camp. I actually found myself chuckling out loud at points - it was that funny. The whole thing is just crazy and funny and an excellent read.
I also loved the Wilderness Survival Tip provided at the end of each chapter. Two of my favorites were: "Always bring a first-aid kit that contains bandages, antiseptic, and a surgeon's operating table." and "If a bear is chasing you, you don't have to outrun the bear. You just have to outrun the person you're with. Always bring a slow-running relative for just such an occasion."
This is an absolutely wonderful, funny, perfect for summer read and I highly, highly recommend it to all ages. I am definitely looking forward to the author's future releases.
---
*This post may contain affiliate links*