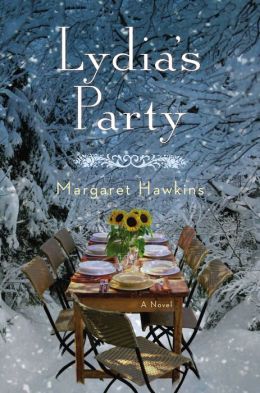 An exquisite and profound tale for fans of Anne Tyler and Anna Quindlen

Glowingly reviewed everywhere from O, The Oprah Magazine and Good Housekeeping to sites across the blogosphere, Lydia's Party sparks "a-ha" moments and heartfelt conversations about friendship, regrets, and ambitions. Margaret Hawkins's earlier books, all published by small presses, have gained her a devoted following, but this gem of a novel will introduce her to the wider audience she deserves.

Lydia is hosting her "Bleak Midwinter Bash," a late Christmas party that has become an annual tradition. Her guests—six friends who bonded twenty years ago over art, dogs, and their budding careers and romances—think they know everything about one another, but tonight Lydia prepares to shock them with a devastating announcement.


---
Received for review.
This was a nicely written book about friendship but it was a bit cluttered and I was overwhelmed for the first part of the book just trying to keep track of all the characters. It was, frankly, exhausting. By the second part things sort of settled in and I was able to enjoy the book a bit more.
I have to say that I didn't particularly either care for or connect with any of the women. Perhaps this was because there were just so many of them packed into a single book, or perhaps it was just because they weren't particularly likable to begin with. In any case, that missing bit took away most of the joy from reading the book.
While this was an interesting read, and certainly well written, and I could see the care the author had put into her work it just did nothing for me. It was good, but not great and did not leave a lingering impression of any kind - good or bad. It's definitely worth a try though.
---
*This post may contain affiliate links*