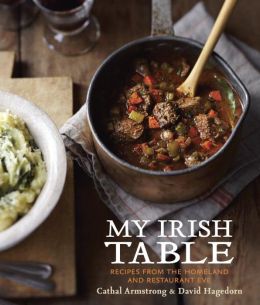 The debut cookbook from Cathal Armstrong featuring 130 recipes showcasing modern Irish fare, along with stories about Armstrong's journey from Dublin to Washington, DC, and becoming an internationally recognized four-star chef, the owner of seven successful food and drink establishments, and a leader in the sustainable-food movement.

With its moderate climate and amazing natural resources, Ireland is a modern-day Eden, boasting lush, bountiful produce, world-renowned dairy, plentiful seafood, and grass-fed meats. In My Irish Table, sustainable food movement leader and four-star chef Cathal Armstrong celebrates the food of his homeland and chronicles his culinary journey from Dublin to Washington DC, where he runs seven beloved and critically lauded restaurants.

Featuring 130 delicious recipes—from Kerrygold Butter-Poached Lobster with Parsnips to Irish Stew, Shepherd's Pie, and Mam's Apple Pie—My Irish Table draws on Armstrong's Irish upbringing as well as his professional experience and French culinary training. In his hands, Irish food is comforting yet elegant, rustic yet skillful, and My Irish Table invites you into his kitchen to explore the vibrant traditions and rich culinary landscape of the Emerald Isle.
---
Received for review.
I just adore cookbooks and pick them up whenever I can so I was delighted to come across this book.
I'll admit that I skimmed through the introduction and jumped right to the recipes. I just couldn't wait to get to the good stuff!
The recipes are lovely and there are many that I want to try from basics such as Fish & Chips and Irish Stew to yummy sweets such as Orange Marmalade and Raspberry Jam. The Breakfast Tomatoes Three Ways will be especially helpful when the garden starts producing tomatoes in force. Some recipes are beyond my skill set and I will not be making my own sausage, but they're fun to read nonetheless.
This is beautifully photographed and well laid out so it makes for a handsome as well as informative read.
I definitely recommend this to anyone looking for a volume of authentic Irish recipes. It would also make a lovely gift!
★★★★
☆
= Really Liked It
---
*This post may contain affiliate links*