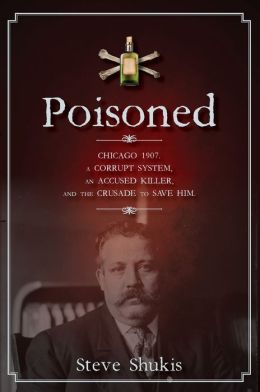 A gripping tale of murder, sorcery, and criminal justice in turn-of-the-century Chicago,Poisonedis the fascinating true story (1907) ofa mysterious Bohemian fortune teller charged with murdering a half-dozen peopleby slowly poisoning them with arsenic.

Poisoneddetails the horrific murders, and the incredible events that followed HermanBillik'sconviction: last second reprieves; legal battles carried all the way to the Supreme Court; frenzied mass demonstrations; corpses secretly exhumed in the middle of the night; and the revelation that key witnesses lied under oath. The case affected political campaigns, involved a Chicago Mayor, and featured an eventual showdown in the race for Governor of Illinois between two of the story's central figures. Indeed, if it were not true, no one would ever believe it.
---
Received for review.
This was a genuinely interesting tale of true crime. While I found myself actually hoping that Herman Billick was the killer since, despite the author's attempts to make him seem friendlier, I found him to be a rather disagreeable person. This, of course, was not the point of the story and you were supposed to be rooting for him, but I didn't.
This thoroughly covers every step of the investigation as it progressed with an amazing level of detail considering the time that has lapsed since the events. The one thing I didn't quite understand was why the author was so surprised by the level of corruption in the legal system at the time and mentioned it so frequently. It was early 1900s Chicago - of course it was corrupt.
If you're interested in true crime this is a well written and intriguing look into real life events which you are sure to enjoy and I definitely recommend it.
---
*This post may contain affiliate links*