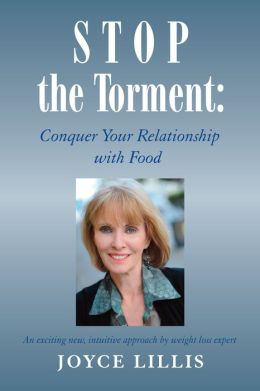 In Stop the Torment, Joyce Lillis presents an entirely new approach to weigh loss and weight maintenance, offering information, stories and exercises designed to understand the deeper relationship each of us has with food. Once you uncover the long established habits that are at work, you will learn how to conquer your relationship with food.

Read this book and you will discover how to:

• Uncover the triggers of what keeps you yo-yo dieting
• Stop the "inner food debate" about how much and what to eat
• Recognize eating behaviors when on an "emotional merry-go-round"
• Digest and metabolize food by learning to trust your body's physical hunger

This book has been written to help you understand the deep connection we have with food. It is not a book outlining a specific diet. However, it provides insight into how our relationship with food has contributed to the dieting craze in our country.

With over thirty-five years of experience analyzing,rationalizing and challenging my own behavior with food,seven years ago I decided to get honest with myself and conquer my relationship with food. My hope is that you will relate to the message and stories in this book so you, too, can recognize how food is connected to much more than feeding yourself for nutritional purposes.

In Part Two, you will find several exercises which will provide important insight into how food and diets have become an obsession in our cultural consciousness. These exercises will allow you to take back your power and begin your journey of conquering your relationship with food.


---
Received for review.
It's a little difficult to actually take advice from a woman who has never carried more than fifteen pounds of excess weight in her life. Yes, she yo-you dieted but only for those fifteen or so pounds. She never lost a significant amount of weight herself but she has helped some women lose smaller amounts of weight - up to about fifty pounds. Her ideas are interesting but not really applicable to everyone.
The plan itself is worth a look but it can be rather simplistic. Thankfully it does't require you to purchase any bizarre foods though, which is a nice bonus. Overall this really isn't for those with a great deal of weight to lose but if you need something to help you lose ten or twenty pounds then it might be a good option.
---
*This post may contain affiliate links*