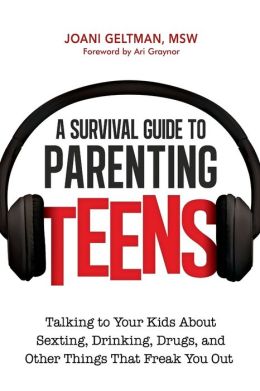 Turn back the clocks! Your sweet child has morphed into a teen. And it's no longer just a messy bedroom or an attitude with a capital "A" causing concern. There's a whole new range of issues on the horizon.

What if your daughter texts a naked picture to a "boyfriend" ...which he then forwards to the entire class? What if your son becomes increasingly withdrawn...Or your child is being bullied online? Would you know what to do?

You could read a whole book on teen psychology - but who has the time! As a parent, what you need most is quick and candid advice for dealing with the issue at hand. After all, if you say the right thing you will open up the lines of communication, but say the wrong thing ...and watch out. A Survival Guide to Parenting Teens is the solution.

Covering a broad range of issues from the terrifying (sex, drinking, drugs, depression) to the frustrating (defiance, laziness, conformity, entitlement), parenting expert Joani Geltman approaches each of the 80 topics with honesty and a dash of humor. Want to understand why teens do what they do? Joani reveals what they are thinking and feeling - and what developmental factors are involved. She then explains how to approach each problem in a way that lets your kid know you "get it" and leads to truly productive conversations. From lying to sexting to falling grades, the teenage years can be an uphill battle. Here is the no-nonsense guide you need to get your teen talking, listening, and back on track.


---
Received for review.
This is an absolutely brilliant book which comprehensively covers every conceivable uncomfortable subject you may need to address with your teen son or daughter from sexting to dressing appropriately to handling homework and other responsibilities. It truly covers everything.
Each chapter is designed to clearly illustrate the problem, explain just why it is a problem (in case you had any doubt), and then goes on to detail a workable solution. You can read the book from start to finish or you can just flip to the relevant chapters and find out what you need to know quickly.
I definitely highly recommend this to any parent of a teen or preteen. It's a wealth of information you are sure to refer back to again and again.
★★★★
☆
= Really Liked It
---
*This post may contain affiliate links*