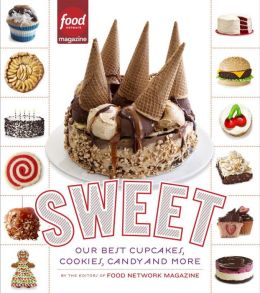 TAKE ALL THE GUESSWORK OUT OF DESSERT! Food Network Magazine editors have picked their all-time favorite treats and put them into one amazing book. In Sweet, you'll find over-the-top brownies, super fun cupcakes, show-off layer cakes, one-of-a-kind cookies and so much more.

This great collection includes recipes for any occasion, with step-by-step instructions and full-page color photographs to help you along. You don't need to be an experienced baker to get started. Every dessert in this book is easy to follow—and totally foolproof. Each recipe has been triple-tested, so you know it'll come out just right. Flip through and you'll find some fun surprises, too: a bowl made of chocolate, a spectrum of frosting colors and a cake that looks like a giant caramel apple.

---
Received for review.
I love the Food Network and was thrilled to discover that they had released a book focused entirely on desserts since I enjoy baking.
This is simply packed with recipes covering everything you might possibly want to make as a dessert. I really liked that each recipe featured a photo of the finished product so you knew ahead of time exactly what it was supposed to look like.
Each recipe was clearly and concisely set out and the instructions are easy to understand. I have to say that this is not for the amateur baker though. There are some recipes which are super easy, such as brownies and cookies, but there are others, such as a cake shaped like a burger that is way beyond my skill set and I've been baking for years.
So, if you're looking to impress and have the time and patience to make a cake that looks like a burger then this is a great option.
★★★★
☆
= Really Liked It
---
*This post may contain affiliate links*