---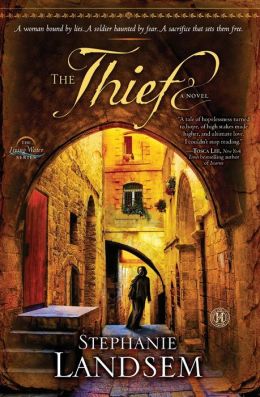 My God, my God, why have you abandoned me?

Nissa is a Jewish woman with a sharp tongue and no hope of marriage. Abandoned by the God she once loved, her only recourse is to depend upon Mouse, the best thief in Jerusalem, to keep her blind brother, Cedron, fed and the landlord satisfied.

Longinus is a Roman centurion haunted by death and failure and is desperate to escape the accursed Judean province. Accepting a wager that will get him away from the aggravating Jews and their threats of revolt, he sets out to catch the thieves harassing the marketplace.

When a controversial teacher miraculously heals Cedron, Nissa hopes for freedom from her life of lies. But the supposed miracle brings only more misfortune, and Longinus, seeking to learn more about the mysterious healer, finds himself drawn instead to Nissa, whose secret will determine the course of both their futures.

Cedron, Longinus, and Nissa are unexpectedly caught up in the arrest, trial, and crucifixion of Jesus. As danger closes in on them from every side, they must decide if the love and redemption Jesus offers is true or just another false promise. How can the so-called Messiah save them from their shackles, when he cannot even save himself?

---
Received for review.
This was my first experience with the author so I wasn't sure what to expect, especially since I hadn't read the first in the series. Thankfully I was able to just jump right into this with no issues. It is perfectly fine as a stand alone novel or as a follow up to the first book.
I gather we were supposed to have some sort of sympathy for Nissa and fall all over ourselves with the glory that was Jesus in the story. I, frankly, did neither. Nissa did nothing for me as a character. She was well written, but she was just not a sympathetic or likable person. I did like Longinus slightly better since he actually had some beneficial qualities to him but neither one really wowed me. I also didn't particularly care about the fate of either character.
The premise was interesting and the author did a good job of weaving her characters into the biblical story. I definitely recommend this for fans of Christian fiction who should find it thought provoking and inspiring.