---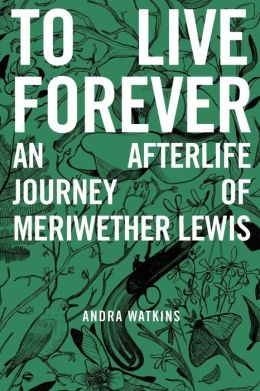 Explorer Meriwether Lewis has been stuck in Nowhere since his mysterious death nearly two centuries ago. His last hope for redemption is helping nine-year-old Emmaline Cagney flee her madame mother in New Orleans and find her father in Nashville. To get there, Merry must cross his own grave along the Natchez Trace, where he duels the corrupt Judge, an old foe who has his own despicable plans for Em.

Top Ten Reasons You Should Read To Live Forever: An Afterlife Journey of Meriwether Lewis

1. You aren't really certain what happens after we die.
2. You worry that you will be forgotten when you are gone.
3. You are the father of a daughter...or the daughter of a father.
4. You thought Hwy. 61 was the only famous road in Mississippi.
5. You figured Lewis and Clark just fell off into the Pacific Ocean when they made it to the west coast.
6. You did not realize there was a worse American traitor than Benedict Arnold.
7. You thought that the Natchez Trace was a precursor to the Etch-a-Sketch.
8. You liked Huck Finn and To Kill a Mockingbird and always wondered what happened to Elvis Presley's twin brother.
9. You believe in magic.
10. You want to play a part in discovering a new great American novel.
---
Received for review.
Sadly, this was a book that had a description that was better than the reality. I wanted to like, I really did, but it just didn't do anything for me.
I'd known before reading this book that the circumstances surrounding Merriweather Lewis's death were mysterious so I was prepared for that bit. What I wasn't prepared for was the rest of the story where he has to help a little girl run away from her mother and make it to her father a long distance away while trying to avoid an evil man who is chasing them. There was just no point to it. Yes, it all finally came together near the end but the 250 or so pages in the middle were just a giant waste of time.
The novel, while suffering from a bizarre plot, was rather well written. I liked Merry's portions better than Emmaline's but they were both representative of each character. I wasn't fond of how often the perspective changed though. It really interrupted the flow of the story and by the time I got used to the latest narrator it had switched again.
So, while this sounded promising it was just a mixed up, pointless read and I really cannot recommend it.
---
*This post may contain affiliate links*