Monterial Bynoe, author of the book Determination: Nothing and Nobody Can Stop Me, stopped by for an interview.


---
Can you tell us a little bit about yourself?

My name is Monterial Bynoe I am the founding pastor of the Tabernacle of Praise in Randolph, Ma. I am the father of five wonderful children and grandfather of two.

I'm married to the love of my life Lady Stella. We been married 20 years. Together we the owners of M&S Cleaning Services.

And now the author of my first book entitled Determination "Nothing and Nobody Can Stop Me".


What do you do when you're not writing?

I love spending time with my family and watching movies and preaching the Gospel of Jesus Christ and traveling


When did your first start writing?

I started writing this book in 2013 and finished in April of this year.


Is there any particular author or book that influenced you in any way either growing up or as an adult?

To be honest when I was young I didn't like to read. I think I didn't start loving to read till I was locked in prison because it was my way out.

The book that influenced me was the autobiography of Malcolm X


What inspired you to write this particular book?

As a pastor you would hear stories of people trying to achieve that goal and see their dreams come to pass and it wasn't that they didn't have faith they just didn't have enough faith in themselves or their determination to see it come to pass.

So I said I need to write a book about how I like so many wouldn't let the many no's stop me from becoming what i knew was my destiny.


What was your favorite chapter (or part) to write and why?

I think my favorite part is seeing your manuscript for the first time.


What is best writing advice you can give?

Stick to it till you're holding a copy of your book in your hand


Is there anything else you'd like your readers to know about the book?

This Book can give you tools to help you achieve not only your personal goals but family and professional goals as well.
---
About the book:
From the heart of Pastor Monterial Bynoe comes this short-read created and purposed to inspire you to successfully navigate your life by accessing your God given gift of determination.





Through Biblical accounts and personal testimony, Pastor Bynoe not only provides insight on how to assess your current level of determination and make the appropriate adjustments, but he also teaches you how to go further and use your determined mindset to seek, find, and carry out the divine design for your life.
---
About the author: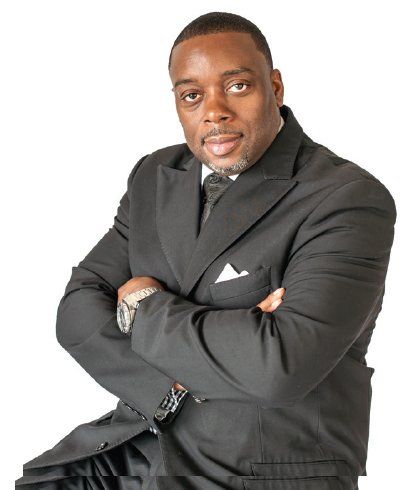 ANOINTED, BOLD, GOD-CENTERED, VISIONARY, ENTREPRENEUR and DETERMINED are all terms that are used to describe the native of Boston, Massachusetts. Monterial Bynoe is Senior Pastor of The Tabernacle of Praise, better known as The TOP Church in Randolph, Massachusetts. A man of humble beginnings, he now leads one of Randolph's fastest growing congregations in only six years.
He attended Gordon Conwell Theological Seminary in Boston, Massachusetts, and went on to become a graduate of Caleb Leadership Institute in New Castle, Pennsylvania.
He and his lovely wife Stella are the proud parents of five Monterial, Lamont, Ariyanna, Kiara and Kayla. They are also the grandparents of two Taylah and Monterial III.
Pastor Bynoe's personal motto and scripture is Jeremiah 33:3 "Call to me and I will answer you. I'll tell you marvelous and wondrous things that you could never figure out on your own."
To learn more about the author or for booking please visit
MonterialBynoe.com
,
TabernacleOfPraiseMin.org
or email Info@MonterialBynoe.com. You may also visit him on
Facebook
,
Twitter
, or
Instagram
.
---