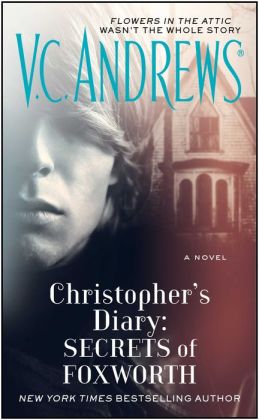 Jealousy, tragedy, survival, and revenge—the discovery of Christopher's diary in the ruins of Foxworth Hall brings new secrets of the Dollanganger family to light and obsesses a new generation. With Flowers in the Attic and Petals on the Wind both now major Lifetime TV events, this first new addition to the Dollanganger story in nearly thirty years is a timely look at the events in the attic—from teenage Christopher's point of view.

And don't forget to preorder the follow-up, Christopher's Diary: Echoes of Dollanganger!

Christopher Dollanganger was fourteen when he and his younger siblings—Cathy and the twins, Cory and Carrie—were locked away in the attic of Foxworth Hall, prisoners of their mother's greedy inheritance scheme. For three long years he kept hope alive for the sake of the others. But the shocking truth about how their ordeal affected him was always kept hidden—until now.

Seventeen-year-old Kristin Masterwood is thrilled when her father's construction company is hired to inspect the Foxworth property for a prospective buyer. The once grand Southern mansion still sparks legends and half-truths about the four innocent Dollanganger children, even all these decades later. Foxworth holds a special fascination for Kristin, who was too young when her mother died to learn much about her distant blood tie to the notorious family.

Accompanying her dad to the "forbidden territory," they find a leather-bound book, its yellowed pages filled with the neat script of Christopher Dollanganger himself. Her father grows increasingly uneasy about her reading it, but as she devours the teen's story page by page, his shattering account of temptation, heartache, courage, and betrayal overtakes Kristin's every thought. And soon her obsession with the doomed boy crosses a dangerous line…


---
Received for review.
When I read Flowers in the Attic when I was young it scared the heck out of me but I still couldn't put it down and when I reread it recently I had the same reaction. There's something so fascinating about the story that just keeps you flipping the pages as fast as you can read them because you can't believe the events are actually happening. So, when I heard about the release of this newest book in the series I had to read it too and all I can say is "wow".
I love the idea of a girl finding Christopher's diary that he secretly kept while he and his siblings were inprisioned in the attic and becoming fascinating and then increasingly obsessed with it. I think her experience mirrors our own as young readers of Flowers in the Attic. The book just took you over and you had to find out what happened and it's the same with Kristin. Of course, this being a V.C. Andrews book Kristin goes a bit too far with her obsession.
This thrilling new chapter in the story continues the deeply disturbing tradition and is a wonderful addition to the series. I highly, highly recommend it to fans of the original books as well as those new to the haunting series.
---
*This post may contain affiliate links*