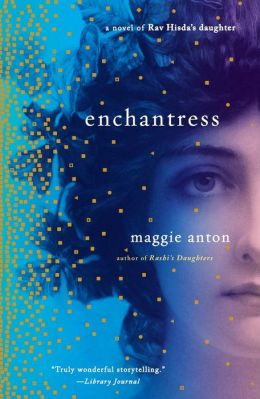 Fantastic tales of demons and the Evil Eye, magical incantations, and powerful attractions abound in Enchantress, a novel that weaves together Talmudic lore, ancient Jewish magic, and a timeless love story set in fourth-century Babylonia.

One of the most powerful practitioner of these mysterious arts is Rav Hisda's daughter, whose innate awareness allows her to possess the skills men lack. With her husband, Rava—whose arcane knowledge of the secret Torah enables him to create a "man" out of earth and to resurrect another rabbi from death—the two brave an evil sorceress, Ashmedai the Demon King, and even the Angel of Death in their quest to safeguard their people, even while putting their romance at risk.

The author of the acclaimed Rashi's Daughters series and the award-winning Rav Hisda's Daughter: Apprentice has conjured literary magic in the land where "abracadabra" originated. Based on five years of research and populated with characters from the Talmud, Enchantress brings a pivotal era of Jewish and Christian history to life from the perspective of a courageous and passionate woman.


---
Received for review.
I've always loved reading about Babylonia so I was intrigued when I came across this book and picked it up. When I started reading I wasn't aware that it was part of a series so I was a bit confused by some references but I quickly found my footing through the author's skillfully woven descriptions.
I'm also not exactly a Jewish scholar so some of the words and references in the book went right over my head and seriously detracted from my reading enjoyment.
The story itself was interesting and the mixture of magic and setting made for a truly unique experience. I really enjoyed that while the women were powerful the author did not portray the men as overbearing or weak as so many authors tend to. Both the men and the women were strong and intelligent.
Overall, this was a very nice, well written read and I certainly recommend it.
---
*This post may contain affiliate links*