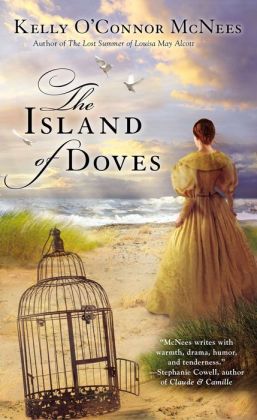 Vivid and enthralling, Island of the Doves tells the story of two women in early nineteenth century America—one typical of her time, one extraordinary for it—who transform each other's lives.

Susannah Fraser lives in one of Buffalo's finest mansions, but her husband has made it a monstrous prison. When a mysterious woman offers to help her escape, Susannah boards a steamboat for Mackinac Island. But after being a dutiful daughter and obedient wife, it is only as she flees that she realizes how unprepared she is for freedom.

An exceptional woman of early America, Magdelaine Fonteneau has overcome convention to live a bold and adventurous life, achieving great wealth and power as a fur trader. But Magdelaine has also seen great tragedy and lost all that was dear to her, and she is no longer sure her hardened heart is capable of love.

Now, Magdelaine seeks redemption by offering safe harbor to Susannah. But as their friendship grows into something miraculous, it changes each woman in unexpected ways. Each needs to learn to love again, and only together can they realize a future bright with the promise of new life.


---
Received for review.
I wanted to like this, I really did, since it seemed interesting but the reality was sadly disappointing.
Susannah was a spoiled little rich girl who kept whining about her circumstances - husband who didn't love her and married her for her money (which she no longer had). Yawn. It was really hard to sympathize with her at all, especially after her "escape". Magdelaine wasn't much better. She was cold and thoroughly unlikeable. The two had so much cruelty and hatred for their former lives that it was really sickening. I didn't find either of their stories inspiring or even entertaining. They were just such bitter women that it was stomach churning.
The book was well written and did capture the time nicely but the characters were just such nasty people that I really did not enjoy this at all. I really cannot recommend it.
---
*This post may contain affiliate links*