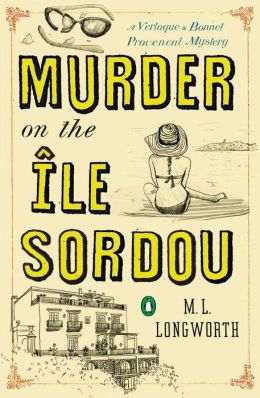 The fourth book in the series finds Verlaque and Bonnet on vacation on a remote island in the glittering Mediterranean

Like Donna Leon and Andrea Camilleri, M. L. Longworth's books enchant mystery lovers with a taste for good food and gorgeous landscapes. In Murder on the Île Sordou, Judge Antoine Verlaque and his girlfriend, law professor Marine Bonnet, are hoping to enjoy a relaxing holiday at the Locanda Sordou, an opulent hotel that is reopening after decades, but someone has other plans.

Maxime and Catherine Le Bon have spent their life savings restoring the Locanda, which lies on an archipelago just off the coast of Marseille. The murder of one of the guests casts a shadow over everyone's vacation, and Verlaque and Bonnet are once again called to investigate. But things go from bad to worse when a violent storm cuts off all communication with the mainland. Will the killer strike again?


---
Received for review.
This was my first experience with the author and I normally hesitate to jump into a series at the fourth book but this just looked so fun that I couldn't resist! And now I can go back and read the first three in the series and know that they are going to be just as good.
This was a thoroughly enjoyable mystery that smart and funny and actually quite reminiscent of Agatha Christie with the characters being locked in with a killer during a terrible storm. It was beautifully written and packed with all sorts of entertaining characters.
It was lovely to meet Verlaque and Bonnet, who were so likeable that it quickly felt as if I were visiting with beloved friends again even though this was my first introduction to them.
I highly recommend this delightful mystery and I look forward to reading the previous books in the series as well as any future ones.
---
*This post may contain affiliate links*