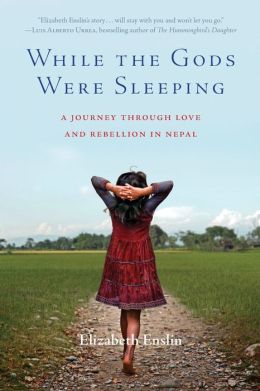 Love and marriage brought American anthropologist Elizabeth Enslin to a world she never planned to make her own: a life among Brahman in-laws in a remote village in the plains of Nepal. As she faced the challenges of married life, birth, and childrearing in a foreign culture, she discovered as much about human resilience, and the capacity for courage, as she did about herself.

While the Gods Were Sleeping: A Journey Through Love and Rebellion in Nepal tells a compelling story of a woman transformed in intimate and unexpected ways. Set against the backdrop of increasing political turmoil in Nepal, Enslin's story takes us deep into the lives of local women as they claim their rightful place in society—and make their voices heard.


---
Received for review.
While this may be an interesting look at one woman's life and experiences abroad it was just plain boring. Really, really boring.
The author reminded me, not so favorably, of the Temperance Brennan character on Bones. She's frankly a rather cold woman and comes across very bitchy. She has that same elitist view that Brennan has and it's not attractive at all. She's just extremely obnoxious. Yes, she's brilliant but does she have to keep harping on it? I mean, come on!
If you can get past the author's cold, clinical attitude this may be a decent read but I just couldn't and did not enjoy the book at all. I really cannot recommend it.
---
*This post may contain affiliate links*