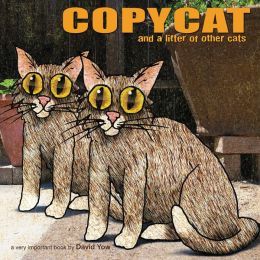 David Yow's cat portraits, captured here for the first time in book form, are bold, striking, hilarious, and beautiful. Each portrait is based around a pun, but they capture so much more than wordplay. All cat lovers will find something to relish in this gorgeous coffee-table book, which is the perfect gift for cat enthusiasts, animal lovers, and anyone with a playful sense of humor.

About the book, David Yow says: "I love cats. Always have. The only time I didn't have a cat was a brief hell in Chicago where I lived in an apartment whose landlord didn't allow them. At that place, I had a life-sized cardboard cutout of a cat which I named Toody. I also love wordplay. I'm the only adult I hang out with who still gets a kick out of puns. I make up palindromes. I used to write songs and poems (these days, I leave that for the songwriters and poets); in this book of cat-pun drawings, I have made a concerted effort to come up with ideas that range from really funny to really amusing. The entire litter of animals in this book are line drawings that are 'colored in' with photographic textures, and each cat is dropped into a photographic setting. Yep, that's the truth."


---
Received for review.
When I first saw this book I thought it had to be cute since a book full of cat cartoons had to be cute. Sadly, it was not as expected and was just plain bad.
Some of the illustrations were okay, but a good portion passed the line between just plain stupid and completely tasteless. Catheter, Catcall, Catnip, and Category were among those that made it into the tasteless group.
If you are at all a fan of cats then this is simply not the book for you. I really cannot recommend it.
---
*This post may contain affiliate links*